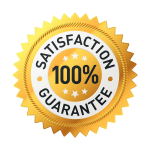 Our Outrageous Physiotherapy Guarantee To You: We are so confident that you will be blown away by the outstanding level of treatment and care you receive at BodyFit Physiotherapy in Howick that we are offering you this OUTRAGEOUS GUARANTEE.
We will give you a full refund and the following treatment completely FREE of charge if you are not happy for any reason with the physiotherapy services you received during any of your visits. This will eliminate the financial risk of seeing a health professional. Now, this is our guarantee to YOU that you will be fully satisfied with the treatment and professional care you receive at BodyFit Physiotherapy.
It would be unrealistic for us to promise to every new patient that we will make them completely pain-free in one session. However, what we do promise is that you will be satisfied with the level of service and professional health care you receive from our physiotherapists. Therefore, if you are not completely satisfied with your initial consultation, please let us know as soon as possible.
When you are injured, the last thing you want to worry about is whether your health provider will be up for the task.
So there is no reason to hesitate. Pick up the phone and call us now or click here to make an appointment online.