Patellofemoral pain, or PFPS in the medical world, is a condition that causes pain at the front of the knee and on top of the kneecap, known as the patella. The knee is made up of two joints, the tibiofemoral joint and the patellofemoral joint, in this case, this injury is localised to the patellofemoral joint.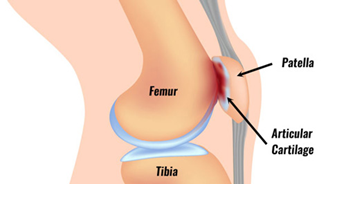 Patellofemoral pain can be due to patellar trauma, however it is more often caused by a combination of factors such as overuse and overload of the patellofemoral joint, biomechanical abnormalities, muscular weakness, imbalance, or dysfunction. Pain and discomfort is localized to the knee, however the source of the problem is often somewhere else.
Studies into hip function show patients with PFPS displayed weaker hip muscles. And some studies have even demonstrated a link between foot pronation (flat feet) adding additional stress on the patellofemoral joint.
The good news is, patellofemoral pain can be successfully treated through rehabilitation that addresses these factors!
So, what should you expect when you come and see one of our experienced physiotherapists?
Firstly, it is always a good idea to take a pair of shorts with you or wear some loose-fitting trousers as we will want to see your knee when we assess it. Don't worry, we have shorts here if you don't have any! We will ask you some in depth questions to establish your training schedule and learn about your hobbies to help us find out what makes your pain worse. We ask this because we want to get you back to 100% as quickly and safely as possible. Unfortunately, if you are involved in a lot of activities that hurt your knee, we may advise you reduce these for a certain period of time, this isn't to be mean and stop you doing the things you love, but to get you back to these things faster in the long term.
As we know, PFPS is caused by multiple factors so we will want to assess your hip and ankle to address all the issues that could be contributing to your knee pain.
Physical rehabilitation programs to treat patellofemoral pain have been proven to be a highly effective non-operative option with an 82% success rate in decreasing severity of symptoms in athletes. Some exercises such as hip and knee strengthening are key to address knee control. If we feel your feet are influencing your condition, we will have a chat about your shoes and offer solutions, and if we cannot find a solution for you, we will refer you on to one of our trusted podiatrists in the community who specialise in this area.
As I have said, PFPS can be caused by overuse and overload, this means that this condition can happen to anyone, making this a condition you can prehabilitate before it even happens. So whether you are a blossoming young (or older!) recreational athlete who plays for a sports team, or you simply enjoy a kick about with your mates down at the local park, or someone who has taking up running/walking to alleviate the stress of daily life and get healthy, you could benefit from seeing one of our physiotherapists for a free 20 minute knee assessment.
At BodyFit Physiotherapy Group, we love helping you achieve your goals, so feel free to book an appointment to see how we can help you. Call us on 09-5328942 to book a free no-obligation knee assessment.
Credits: article written by Elaine Clisham